Replacing the facias and soffits on your property can be very expensive if you have a professional contractor to install it for you. For a 4 bed house we were quoted between ?4,500 - ?8,000.
We priced up the parts and we estimated that we could buy all the bits, including 2 scaffold towers for ?1,500.
It is possible to purchase UPVC covers for your existing facias that just nail on to the existing timbers. Whilst these are cheaper and easier to install they can then trap moisture against the timbers and then hide the damage being done.
Our view is that most wish to replace the facias and soffits because the existing material is showing signs of rotting or damage. As such we would remove the existing material and replace with the modern materials.
Why replace?
The simple answer is ease of maintenance. Timbers rot over time and need to be painted or stained between 3 & 5 years. Plastics are pretty much maintenance free and will last 20 -30 years.
What you need
Working at heights is dangerous. We would not recommend working off ladders. Either hire scaffolding / towers or purchase them. We were surprised at how cheap it was to buy them - we bought two towers on Ebay for ?300. Buying is ideal if you have other jobs that need to be done and need the storage. We were quoted ?150 a week to hire to the payback is pretty good.
What is involved.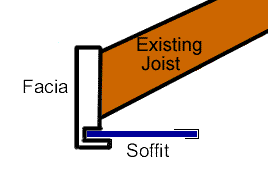 Most people doing this job will take the opportunity to replace the facia boards, the soffits and the guttering. You can make up your own mind as to how much or little you wish to replace based on the condition of the existing materials
Inspecting the condition of the existing material
This is a good opportunity to have a good look at your property roof line to fully understand the condition of the existing materials. The corners and joins are most likely to show the worst deterioration. The photograph below shows how the existing materials has rotted away leaving a hole. This is bad as it can allow birds, mice and wasps to make your roof space their home. In addition it also exposes roof joists and other materials to the elements.
Use the opportunity to measure up how much material you will need to replace the soffits, facias and gutters.
Draw a picture of all the parts so you can then work out how much you need of each material. We would suggest buying an extra 10 - 15% to cover mistakes and cuts etc. We have used the dotted lines as a way of showing ourselves which bits need guttering.
Removing the old and fitting the new
We suggest that you remove the old material in sections and then replace with new. When you pay for professionals to do the job they are able to assign many people to do each part and can finish quicker. If you are doing it on your own or with a friend you should try to remove, install and finish a section at a time.
The last thing you want is to have removed all the existing materials and then not being able to finish the job.
Buying the parts
Purchasing the parts from a traditional DIY shop will be expensive. There are a few specialists online who can supply all the facia boards, soffits, joins , end caps, corners and guttering for the job.